NSGIS delivered a comprehensive enterprise-wide GIS solution, integrating security, mass notification, and property management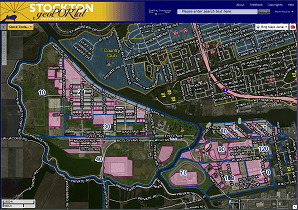 The Port of Stockton is a Port District organized under California Harbor and Navigation Code. It is the largest deep water inland port in California, 75 miles from the ocean, and the largest river port in the Western US. While the Port of Stockton mainly moves bulk and break-bulk commodities and is the only "net-exports" port in California, over half the Port's revenues are from land holdings. The Port maintains its own sworn police force, but has had to shed much of its other staff and rely heavily on external resources.
The Challenges
The Port of Stockton has a diverse and demanding clientele; with reduced staff, and stretched budgets, the Port has had to face special challenges:
Maintaining its critical role in the regional infrastructure and commerce
Operating efficiently and safely in spite of limited in-house staff resources due to recession and retirement
Updating technology rapidly across the board in order to do more with less
Using technology to collaborate better
Achieving a common view of information
The NSGIS Solution
NSGIS implemented an Esri-based Enterprise GIS that fulfills the needs of all operational units, thus also putting valuable information at the fingertips of the Port Police:
On-site enterprise geodatabase and embedded staff to keep it maintained
Coordination with port contractors to ensure that CAD data that are delivered to the Port fit will with the GIS geodatabase
Tight integration with Property Management and Mass Notification Systems
Stockton geoPORTal: a single web viewer for all geospatial aspects of the port, including properties, utilities, environment, nautical charts, live vessel and weather feeds, and real-time video and access control data
Opportunity
NorthSouth GIS is now offering the delivery of similar capabilities as implemented at the Port of Stockton for both on-site implementation or via our cost effective, secure cloud technology deployment.
The Port of Stockton Case Study (PDF)
Interested?
Call us at (800) 866-5013 ext 11 or email us at ports@nsgis.com!