NSGIS delivers award winning Port Solution for Port of Los Angeles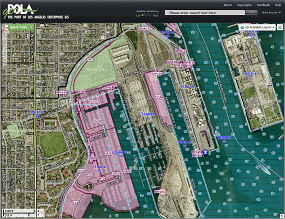 The Port of Los Angeles (POLA) is

one of the busiest ports in the United States. Like most ports it is a multi-faceted enterprise, concerned with not only port operations but also property and lease management, wharf/dock management, utility maintenance and security. POLA container yards and warehouse facilities handle over $250 billion dollars in cargo each year.
The Challenges
The Port of Los Angeles is a highly dynamic environment, with frequent and significant real-time physical changes.
Disparate and duplicated data, multiple versions of the built and natural environments, including:
– Land and water boundary – large scale land reclamation
– Weather and water conditions
– Roads, railroads and container terminals – layout and operations
Threats to the security and safety of port operations
Operational system diversity
Demand for increased efficiencies
Need for a common view of information
The NSGIS Solution
NSGIS implemented an Esri-based Enterprise GIS that cuts across operational, security and emergency management issues.

Data and ready-made maps served directly from Esri ArcGIS for Server to other software and systems, e.g., Situational Management, Lease Management, and Environmental database systems.
Integrated display of static GIS data and dynamic data including vessels, traffic, weather and Blue Force Tracking for Port Police.
Delivery and integration of all geospatial information via 

geoPOLA

– the Port-wide Intranet GIS web map viewer.
In addition to the accolades that The Port of Angeles received for this project, the Port of Los Angeles staff, Esri and NorthSouth GIS collaborated on creating a video that describes how much the Enterprise GIS system truly revolutionized the day to day operations at the Port:

Port of Los Angeles Chief of Police:  Ronald J. Boyd
Port of Los Angeles Director of Operations:  John Holmes
Port of Los Angeles Enterprise GIS Manager:  Christine Thome
Opportunity
NorthSouth GIS is now offering the delivery of similar capabilities as implemented at the Port of Los Angeles for both on-site implementation or via our cost effective, secure cloud technology deployment.
The Port of Los Angeles Case Study (PDF)
Interested?
Call us at (800) 866-5013 ext 11 or  email us at ports@nsgis.com today!

Awards for geoPOLA
---

The Port of Los Angeles received an American Association of Port Authorities (AAPA) award for the best Information Communication Technology (ICT) project in 2010.
---

The Port of Los Angeles also received a Special Achievement in GIS Award at the 2010 Esri International User Conference.
NSGIS Port Clients
Click to learn more.