NorthSouth GIS has a long history implementing enterprise GIS, property and environmental land use management applications for regional and local governments. These cost effective solutions deliver real value to decision makers, stakeholders and the public.
City of Los Angeles, Office of Historic Resources (OHR)
Co-funded by the City of Los Angeles and the Getty Conservation Institute, OHR retained NSGIS to create a unique GIS-based software, the Field Guide Survey System (FiGSS). This software was used for an entire decade to help field survey teams inventory over 800,000 properties in the City of Los Angeles, in order to ultimately determine the potential of over 30,000 properties for historic registration. This unprecedented effort was made in order to help preserve the historic heritage of this ever-changing urban landscape. The software enabled hundreds of specialists and volunteers to scour the city, using an expert system that encapsulated and "force-multiplied" the knowledge of subject matter experts, to quickly and accurately identify, describe and assess buildings and structures relative to their architectural or historical significance. The overall program, called SurveyLA, along with NSGIS, have been recognized with numerous awards, for its approach, scope and scale, and use of technology.
City of Los Angeles Department of Recreation and Parks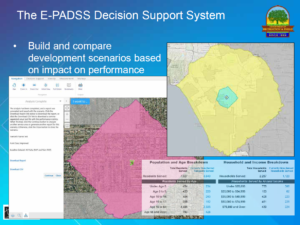 The City of Los Angeles hired NSGIS to build a GIS-based decision support system (Equitable Parks and Amenities Decision Support System, or E-PADSS) to help it make equitable decisions about investments in park facilities and amenities so that all residents receive equal access to recreation and park opportunities. The Mayor of Los Angeles had mandated that all LA residents must have equitable access to parks and amenities and the system provides planners with interactive tools that combine demographics, driving and walking networks, park boundaries and classifications, and the location of park entrances, in order to make it possible to create and compare development scenarios.
Working on behalf the Los Angeles Department of Recreation and Parks, NSGIS designed and developed and ArcGIS Server geodatabase to support the process, developed a set of backend ArcGIS Server geoprocessing scripts to compute accessibility, created a Geocortex Essentials-based front-end to allow planners to create and compare development scenarios, and deployed a set of reports that document the alternatives and provide justification for the selection of one scenario over another.
 City of Los Angeles Department of Transportation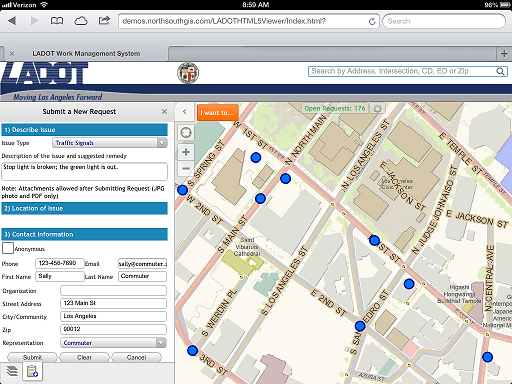 NSGIS also worked with the City of Los Angeles Department of Transportation (LADOT) to help provide a method for people in the community to report issues to be addressed, such as problems with street signs, traffic signals, maintenance and streets that allow excessive speeding. Built on ArcGIS for Server, Geocortex Essentials and Essentials Workflows and published via an easy-to-use HTML5 browser, the myLADOT Work Management System is available in any browser on any platform, including iPhones, iPads and Android devices. The system collects information about the issue, including type, address, time and date of the issue and optionally, the submitter's contact information and even a picture of the problem.
The project also includes an executive management dashboard via a Geocortex Essentials Silverlight viewer to review, process and assign the service requests.
The LADOT Work Management System greatly eases the ability of Los Angelenos to submit issues and improves the throughput of LADOT issue resolution by reducing costs and improving customer service.
City of Los Angeles Department of Public Works Bureau of Engineering

NSGIS collaborated with the City of Los Angeles Department of Public Works Bureau of Engineering (BOE) to upgrade their aging MapGuide-based NavigateLA system. NavigateLA is the web mapping portal for both employees across the City of Los Angeles as well as contractors and users in the public community to access BOE land base management data, city centerline street data, sewer infrastructure data, storm drainage data, City construction permits and more. From this repository, you can access cadastral maps, parcel reports, street dedications, legal addresses and more – all specific to any location.
By upgrading the underlying technology to ArcGIS for Server based map and feature services and building the user interface on the off-the-shelf Geocortex Essentials, NSGIS is helping BOE ensure that NavigateLA will be easier to maintain and easier to share data with other agencies within and outside the city.