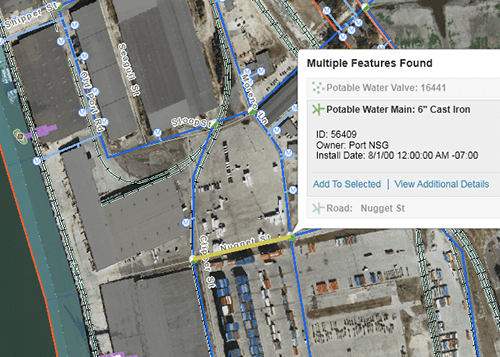 The NSG Port Solution's most visible components are its software components. Our solution leverages the benefits of several layered products from world technology leaders Microsoft, Esri, and Latitude Geographics, then adds our own layer of ports-specific tools and extensions. Because NSGIS manages the entire solution, we are able to keep the various component synchronized, deliver maximum functionality with as little reliance on custom software and as much reuse of COTS (Commercial off the Shelf) tools as is possible. The result is a highly focused, yet extraordinarily scalable solution to meet ports' initial and eventual needs.
Desktop Map Viewer
Powerful viewer ideal for office use. Runs on most current web browsers with the Microsoft Silverlight extension installed.
Mobile Map Viewer
Simpler viewer for field work and focused tasks. Runs on all platforms and web browsers that support HTML5.
Measurement and Sketching Tools
Measure areas and lengths, sketch graphics for on-the-fly map output.
Data Linking Tools
Powerful configuration tools for linking to external databases.
Search and Query Tools
Tools for locating port assets by current and historic names, addresses, and other identifiers.
Data Drill-down Tools
Click to retrieve data about visible or hidden mapped assets, either from a geodatabase or directly from other corporate databases.
Esri Base Maps and Links to Google and Bing map services
Current global imagery and synchronization with popular map services.
Printing and Reporting Tools
Custom printable maps & reports to create Vacant Lot Reports, Tenant Contacts, etc.
Document GeoLinker Tool
Link CAD drawings, photos and other files to map locations.
Map Query Feedback Tool
Map redlining so users can report on map errors or changes.
Short Term Event Planning Tool
Planning and information sharing for construction, public events, detours, and more.
Security Situation Planning Tool
Port Security Plans, Security Action Plans.
Field Inspection and Incident Reporting Extension
Use your laptop, tablet or smart phone to inspect equipment, environmental compliance, or initiate work orders for repair. Requires cellular or WiFi connectivity.
The core components of the NSG Port Solution vary slightly depending on the type of deployment selected by a port (read more about Deployment Options).
| Deployment: | On-Site | In the Cloud | In the Cloud |
| --- | --- | --- | --- |
| Software Package: | Standard | Basic | Standard |
| Desktop Map Viewer | √ | √ | √ |
| Mobile Map Viewer | √ | √ | √ |
| Measurement and Sketching Tools | √ | √ | √ |
| Data Linking Tools | √ | √ | √ |
| Search and Query Tools | √ | √ | √ |
| Data Drill-down Tools | √ | √ | √ |
| Esri Base Maps and Links to Google and Bing map services | √ | √ | √ |
| Printing and Reporting Tools | √ | √ | √ |
| Document GeoLinker | √ | | √ |
| Map Quality Feedback Tool | √ | √ | √ |
| Short Term Event Planning Tool | √ | | √ |
| Security Situation Planning Tool | √ | | √ |
| Field Inspection and Incident Reporting Extension | √ | | √ |