NorthSouth GIS has a long history implementing enterprise GIS, property and environmental land use management applications for regional and local governments. These cost effective solutions deliver real value to decision makers, stakeholders and the public.
City of Los Angeles Department of Public Works Bureau of Engineering

NSGIS collaborated with the City of Los Angeles Department of Public Works Bureau of Engineering (BOE) to upgrade their aging MapGuide-based NavigateLA system. NavigateLA is the web mapping portal for both employees across the City of Los Angeles as well as contractors and users in the public community to access BOE land base management data, city centerline street data, sewer infrastructure data, storm drainage data, City construction permits and more. From this repository, you can access cadastral maps, parcel reports, street dedications, legal addresses and more – all specific to any location.
By upgrading the underlying technology to ArcGIS for Server based map and feature services and building the user interface on the off-the-shelf Geocortex Essentials, NSGIS is helping BOE ensure that NavigateLA will be easier to maintain and easier to share data with other agencies within and outside the city.
City of Los Angeles Department of Transportation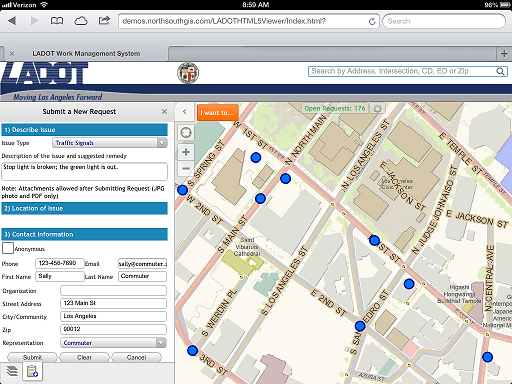 NSGIS also worked with the City of Los Angeles Department of Transportation (LADOT) to help provide a method for people in the community to report issues to be addressed, such as problems with street signs, traffic signals, maintenance and streets that allow excessive speeding. Built on ArcGIS for Server, Geocortex Essentials and Essentials Workflows and published via an easy-to-use HTML5 browser, the myLADOT Work Management System is available in any browser on any platform, including iPhones, iPads and Android devices. The system collects information about the issue, including type, address, time and date of the issue and optionally, the submitter's contact information and even a picture of the problem.
The project also includes an executive management dashboard via a Geocortex Essentials Silverlight viewer to review, process and assign the service requests.
The LADOT Work Management System greatly eases the ability of Los Angelenos to submit issues and improves the throughput of LADOT issue resolution by reducing costs and improving customer service.
Eastern Municipal Water District
NSGIS was pleased to help the Eastern Municipal Water District (EMWD) of Southern California to upgrade two existing web mapping applications, Fleet and Integrated Operations Center (IOC), including upgrading ArcGIS Server 9.3.1 to ArcGIS for Server 10.2 and migrating from the ArcGIS web mapping API to Latitude Geographics Essentials.
EMWD provides water, sewage collection, water desalination and water recycling for about 758,000 residents within a 542-square mile service area in western Riverside County.
The Fleet web mapping application is used by EMWD maintenance staff to learn more about the water, sewage and recycled water pump stations, lift stations and tanks that needed maintenance and repair before traveling to that destination. The IOC web mapping application is used by EMWD operations staff to easily see customer reported issues, such as water pressure, water quality, etc., based on specific time (last 24-hours, last week, last month, etc.).
With the new, easy to use Essentials-based Silverlight viewers, staff can now search for tanks, pump and lift station names, addresses and street intersections. Users can also click on any EMWD asset to learn more about it as well as access the document management system. Additionally, operations staff using the IOC web mapping application can click on customer reported issue to learn more about the report.